I dropped out of college in 1970 to paint, showing my abstracts at sidewalk shows for a couple of seasons which naturally enough led to marriage, formation of a rock band, a career as a general (GREEN) contractor, a stint as editor of a literary journal, winning the 1993 Southeast Poetry Slam, ten years as a syndicated columnist and radio commentator, creating the Warren Wilson College enviro journal Heartstone, Mountain Xpress managing editorship, and election to Asheville City Council in 2009. I returned to painting in the mid-00s. Since leaving Council I've focused on writing and music and kept up a part time business as a Mr. Fixit.
Today I am drawn to realism: land- and water-scapes, decaying barns and chickens. Lots and lots of chickens. In 2016 I commenced to paint a series of sunsets from places where I've watched the sun set—from Key West To Alaska and Mazatlan to Newfoundland. And to Unrealism in the form of meta-fiction.
In 2000 I decided to start publishing books and decided to call my company Brave Ulysses Books. Brave Ulysses was my very best cat ever, the runt of a 9 kitten litter, and so-named to give him courage. Sadly, he was killed by an idiot with a gun when he was only 10 years old. Here, he lives on.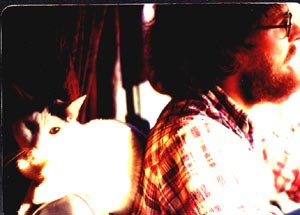 In the past 20 years I have published fifteen of my own titles , and published or facilitated publication of four other authors.