So, lucky or not, here we go again. Another collection of improbable stories. But, actually, did you expect better? Really? Am guessing the Trumpidemic and its attendant seclusion has gone viral.
The latest eruption from my fevered head revolves around midriffs, stretch pants, rigging, rope, quipus, and what knot. This time with more than 256 footnotes to amuse and confuse (257, actually.) There's an excerpt below the pic.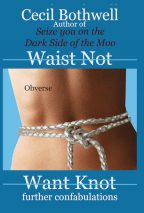 Waist Not, Want Knot (the title story of this collection)
—Let's get the nitty gritty out of the way at the outset. This story is not about waists or knots. Anyone who tells you otherwise is a heathen and a cheat.
If you bought this book under the impression that it would contain pop-diet information, something about how to lose ten pounds in ten days, or help in acquiring the Boy Scout Pioneering Merit Badge, perhaps a diagrammatic exposition of the Bowline or the Trucker's Knot, you are going to be severely disappointed. Though, truth be told, if you haven't mastered the Trucker's Knot by now you are a sad, sad case and have likely lost numerous valuable items from your roof rack or pickup bed.
If you have not yet lost numerous valuable items from your roof rack or pickup bed, trust me, it is only a matter of time.
More than a few of you likely saw the word "waist" in the title and immediately pictured an attractive young woman being sawn in half by a stage magician. We might as well nip that one in bud as well. No magic here.1
On the other hand, if you stumbled in here with an open mind and low expectations you might be pleasantly surprised.
**************
1But have you ever considered how many assistants those guys go through before they finally "get it right?"